Customized Farm Marketing and Risk Management Strategies
Helping you grow a
better business
Every step of getting your product to market in a profitable way is essential, from input costs to risk management, financing, hedging strategies, and knowing when to sell and when to store.
We started Zaner Ag Hedge to help business owners maximize their efficiencies, hedge against loss, and leverage greater profit potential through customized strategies. As a result, we empower agricultural businesses with the tools they need to succeed.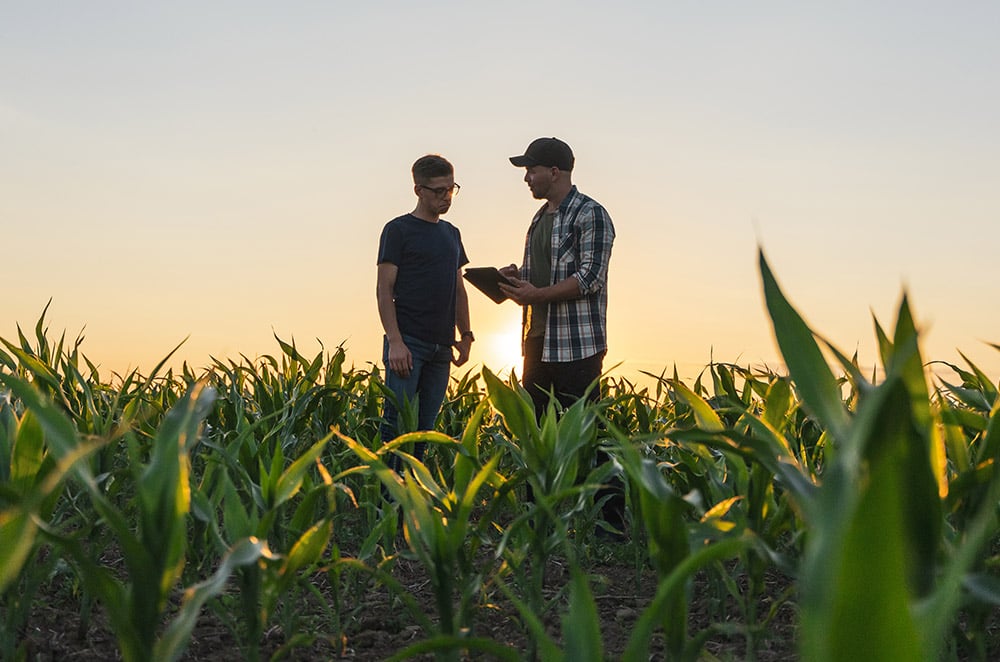 Our Comprehensive Farm Marketing Services
Ag Hedging
Strategy Services
Professional Risk Management
Operational Assessment
Protecting Operations &
Profit Regardless of Market Conditions
Markets will rise and fall, and harvests will range from bust to bumper and everything in between. We aim to protect your operation and help you be more profitable regardless of shifting market conditions, weather events, or product yield.
Your situation is different from your neighbor's. It's unique. Unfortunately, many farm marketing practices utilize a generic, one-size-fits-all approach. But successful ag marketing is more than just nailing down prices or buying put options. Across the board, your individual needs require a specific strategy.
Legacy & Management Changes
The Zaner Ag Hedge team knows that insights don't just come from a computer screen. They come from the field. That's why we are constantly putting boots in the dirt. Our team strives to fully understand your operation and develop customized strategies to help you succeed no matter what the market or mother nature throws at you.

"Working with Zaner Ag Hedge has been a great experience. They really took the time to get to know me and my business before creating a customized strategy for my farm. In addition, they worked with me throughout the year, updating their strategy as markets changed. Their commitment to my operational success was apparent. They walk the talk of 'boots in the dirt' to protect farm operations."
– Joseph McCartney, Westfield Farms
Grain & Livestock Producers
Food Processors /
Producers
Ethanol & Alternative Energy Plants
A Dynamic Approach.

The Zaner Ag Hedge Difference
What sets Zaner Ag Hedge apart is our dynamic approach to your business and our no-cost, no-obligation commission structure.
Responsive Strategy
The first tier of our strategy is a responsive annual strategy. As the market pivots, our strategy shifts to help maximize opportunities and protect against risk. The strategy that's going to help you succeed not only requires alignment with your precise business model, but it must also pivot as conditions or market backdrops change.
Our team is dedicated to your operation throughout the entire year, monitoring markets and reformulating strategies to leverage the best opportunities as they present. Zaner Ag Hedge's decades-long success results from our commitment to helping our clients succeed by matching their situations to time-tested, proven, margin and capital-efficient strategies.
Speculative Strategy
The second tier of our strategy is speculative strategies, or what we like to call adding pennies to bushels. Using a defined risk and benefit criterion, we put together strategies to help business owners when prices are low.
For example, we might discover a scenario where, for 4 cents a bushel investment, we aim to collect a 17-cent or 30-cent per bushel return.
No Cost, No Obligation Commission-Based Fee Structure
Once we get to know you and your business, we'll create a customized strategy. If you feel the strategy isn't right for you, no cost or obligation is involved. However, if you choose to execute our proposed plan, we charge a commission.
The Zaner Ag Hedge Team
The Zaner Ag Hedge team boasts more than 40 years' experience in ag commodities. We consider ourselves teaching brokers in the sense that we want all our clients to understand exactly how each hedge strategy will work for our clients. Because of this our services are a perfect fit for legacy projects and marketing management transitions.